Welcome to EVDS
(Equine Veterinary Dental Services Pty Ltd)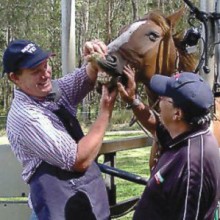 Dental care is an important part of equine health.
The importance of regular dental care not only applies to people but to horses as well. Our vets are trained and qualified to give your horses the best treatment, and also give you the best advice as to how to keep your dentistry costs down over the years.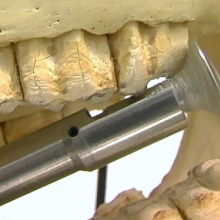 Our range of equine veterinary and equine dental equipment is second to none.
In fact, we have been at the forefront of developing new technologies for the care and treatment of horses. Contact us for a chat or to book an examination of your horse today, and discover first hand our professionality and effectiveness. Ask about the ways you can save $$ by bringing more than one horse into our clinic at one time for a dental or holding a Healthy Horse Dental Party!
Oliver Liyou is one of nature's true gentlemen and I am honoured to now call him my friend. EVDS is his pride and joy and his customers, moreover our horses, are the true beneficiaries of the remarkably talented delivery of his profession. Put simply, Oliver is passionate about what he does, and his consistently high quality of work and expertise in his specialised field in my opinion makes him by far the best in NSW, possibly Australia and afar...
I feel much more confident with dentistry thanks to this course!
Can't recommend Oliver, Jenna, and all of the staff at EVDS highly enough. Oliver is kind, caring, and compassionate, and treats all of my horses (including my old rescue cases) like prized race horses. He always goes above and beyond, is extremely knowledgeable, and arguably one of the top professionals in his field. We are extremely lucky to have him in our local area.
Excellent and special care given to our gelding 'Dash' before, during and after his operation...
I wish I had attended this course earlier.
A fantastic event - a week of great learning experience and practical value.
Have used EVDS since my arrival in Australia in 2004. Won't let anyone else do my horses' teeth. Expert care, very knowledgeable, open and honest. What more could you want from your equine dentist?
I had a fantastic time and learnt so much. Keen to go home and do some dentals. Thanks for your enthusiasm and dedication to teaching.
Fantastic course that has helped me understand the foundations of equine dentistry and gain confidence in my ability to perform a proper oral exam and float to better help the horses out there!