Welcome to EVDS
(Equine Veterinary Dental Services Pty Ltd)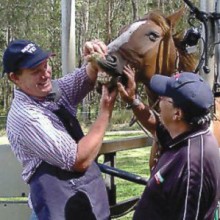 Dental care is an important part of equine health.
The importance of regular dental care not only applies to people but to horses as well. Our vets are trained and qualified to give your horses the best treatment, and also give you the best advice as to how to keep your dentistry costs down over the years.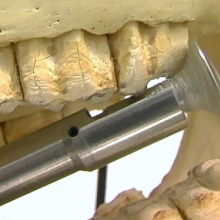 Our range of equine veterinary and equine dental equipment is second to none.
In fact, we have been at the forefront of developing new technologies for the care and treatment of horses. Contact us for a chat or to book an examination of your horse today, and discover first hand our professionality and effectiveness. Ask about the ways you can save $$ by bringing more than one horse into our clinic at one time for a dental or holding a Healthy Horse Dental Party!
Excellent - This is a brilliant course which has taken me from not wanting to touch a PowerFloat to being comfortable using one, and even better, understanding what I am doing and why! I thoroughly recommend it to other vets!
Absolutely excellent professional care for all of my horses over the past ten years. Oliver and his team are fun and efficient. I highly recommend EVDS!
Can't recommend Oliver, Jenna, and all of the staff at EVDS highly enough. Oliver is kind, caring, and compassionate, and treats all of my horses (including my old rescue cases) like prized race horses. He always goes above and beyond, is extremely knowledgeable, and arguably one of the top professionals in his field. We are extremely lucky to have him in our local area.
Oliver is professional and knowledgeable. I feel at ease knowing my horse is in good hands and getting the best treatment. Thanks Oli for keeping horses and owners across the mid north coast happy and health and for always providing service with a smile.
Best ever! Very well prepared.
Great vet, great person very approachable, always available to discuss any issues from teeth, reproduction, feet & general health issues. Thank you for being there for us when needed
Best ever. Very well organised, plenty to learn and to do, inspiring tutors.
Oliver and his staff are excellent! Very professional, and Oliver is a horseman himself so he knows how to handle stallions. Fernleigh Paint Horse Stud highly recommends Oliver for all things equine related ... in particular breeding (collecting and inseminating) and all dental work.
My and my horses' (and dogs') favourite vet ... caring and thoughtful.