Welcome to EVDS
(Equine Veterinary Dental Services Pty Ltd)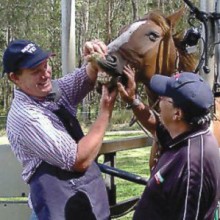 Dental care is an important part of equine health.
The importance of regular dental care not only applies to people but to horses as well. Our vets are trained and qualified to give your horses the best treatment, and also give you the best advice as to how to keep your dentistry costs down over the years.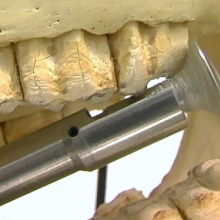 Our range of equine veterinary and equine dental equipment is second to none.
In fact, we have been at the forefront of developing new technologies for the care and treatment of horses. Contact us for a chat or to book an examination of your horse today, and discover first hand our professionality and effectiveness. Ask about the ways you can save $$ by bringing more than one horse into our clinic at one time for a dental or holding a Healthy Horse Dental Party!
Absolutely excellent professional care for all of my horses over the past ten years. Oliver and his team are fun and efficient. I highly recommend EVDS!
Have used EVDS since my arrival in Australia in 2004. Won't let anyone else do my horses' teeth. Expert care, very knowledgeable, open and honest. What more could you want from your equine dentist?
I stayed with EVDS for over 4 months, and I can say that there are no impossible cases for Oliver, even when they looked impossible to solve, Oliver treated them with a 100% success. I had the luck to be the first South American to learn from one of the best dental vets in Australia and the world!! EVDS are amazing human beings and a very professional team that will be always on my heart.
Perfect balance of formal/didactic lectures and practical demonstrations. Great opportunity to network with others. Great comradery amongst participants and teachers.
Oliver Liyou is one of nature's true gentlemen and I am honoured to now call him my friend. EVDS is his pride and joy and his customers, moreover our horses, are the true beneficiaries of the remarkably talented delivery of his profession. Put simply, Oliver is passionate about what he does, and his consistently high quality of work and expertise in his specialised field in my opinion makes him by far the best in NSW, possibly Australia and afar...
Best ever. Much better than wasting money at EVA/AVA conferences. Excellent exposure to basic and advanced equine dentistry. It is good to see that everybody is enthusiastic about teaching vets how to do dentistry the right way and not the 'lay' way.
I had a fantastic time and learnt so much. Keen to go home and do some dentals. Thanks for your enthusiasm and dedication to teaching.
A fantastic event - a week of great learning experience and practical value.
Great vet, great person very approachable, always available to discuss any issues from teeth, reproduction, feet & general health issues. Thank you for being there for us when needed
My and my horses' (and dogs') favourite vet ... caring and thoughtful.