Welcome to EVDS
(Equine Veterinary Dental Services Pty Ltd)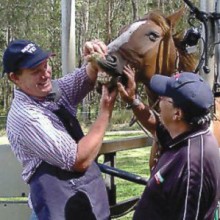 Dental care is an important part of equine health.
The importance of regular dental care not only applies to people but to horses as well. Our vets are trained and qualified to give your horses the best treatment, and also give you the best advice as to how to keep your dentistry costs down over the years.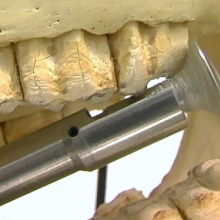 Our range of equine veterinary and equine dental equipment is second to none.
In fact, we have been at the forefront of developing new technologies for the care and treatment of horses. Contact us for a chat or to book an examination of your horse today, and discover first hand our professionality and effectiveness. Ask about the ways you can save $$ by bringing more than one horse into our clinic at one time for a dental or holding a Healthy Horse Dental Party!
Love having Oliver visit each year for the horses - as well as us having our annual chat! He is a wonderful vet with a passion for horses, calm and thorough. Oliver has been treating my horses for years and is always on hand for advice. The staff at EVDS are always so helpful. I can't imagine what I'd do without them!!!
Cannot thank Oliver and his team enough. His attention to detail is second to none. Our equine friends are extremely lucky to have someone who genuinely cares about their overall health and future.
Can't recommend Oliver, Jenna, and all of the staff at EVDS highly enough. Oliver is kind, caring, and compassionate, and treats all of my horses (including my old rescue cases) like prized race horses. He always goes above and beyond, is extremely knowledgeable, and arguably one of the top professionals in his field. We are extremely lucky to have him in our local area.
Best ever! Very well prepared.
I've been using EVDS for all my horses for their dental since I moved here, about 6 years. Oli is the ultimate professional in his treating of my equine family. I have also attended the training days at Grafton with my horses and got exceptional service at extremely reasonable rates. Couldn't recommend enough.
Incredible - Thank you so much for running such a fantastic workshop. I can't think of anything that was bad. My only thought would be to spread it over 6 days.
Thank you for a great week improving my skills and hopefully allowing me to have a work life balance. I found the progression really good.
Best ever - great practical and lecture content. Thank you for another great week of learning and improving my skills. This has consolidated my business plan and I feel so much more able to step out with confidence.
I had a fantastic time and learnt so much. Keen to go home and do some dentals. Thanks for your enthusiasm and dedication to teaching.
Oliver and his team provide a wonderful service for horse owners on the NSW mid-north coast. He has been looking after my horses ever since we moved up here ten years ago. I am confident that their teeth are in the most capable of hands and that any small issues will be picked up before they become serious. He treats all the horses with kindness and respect and is a very valued member of my support team. He is also a wonderful guy to talk to about scientific advances in equine medicine and I look forward to our annual catch ups. Thank you Oli.