Welcome to EVDS
(Equine Veterinary Dental Services Pty Ltd)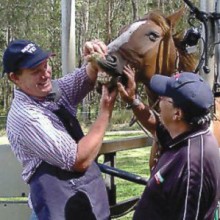 Dental care is an important part of equine health.
The importance of regular dental care not only applies to people but to horses as well. Our vets are trained and qualified to give your horses the best treatment, and also give you the best advice as to how to keep your dentistry costs down over the years.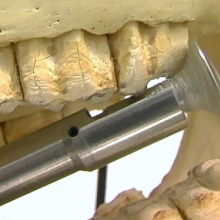 Our range of equine veterinary and equine dental equipment is second to none.
In fact, we have been at the forefront of developing new technologies for the care and treatment of horses. Contact us for a chat or to book an examination of your horse today, and discover first hand our professionality and effectiveness. Ask about the ways you can save $$ by bringing more than one horse into our clinic at one time for a dental or holding a Healthy Horse Dental Party!
Great course, very informative and enlightening on how much pathology we would have been missing. Great social dynamic and friendly approachable lectures/tutors.
Support from tutors was amazing.
Very practical, lots of take home relevant information.
I would not trust anyone else with my horses oral health.
Thank you for a great week improving my skills and hopefully allowing me to have a work life balance. I found the progression really good.
Perfect balance of formal/didactic lectures and practical demonstrations. Great opportunity to network with others. Great comradery amongst participants and teachers.
We are lucky to have such a talented dental vet - best in the Southern Hemisphere- he teaches all the other vets equine dentistry - and a lovely man as well. Thankyou Ollie.
Great vet, great person very approachable, always available to discuss any issues from teeth, reproduction, feet & general health issues. Thank you for being there for us when needed
Fantastic course that has helped me understand the foundations of equine dentistry and gain confidence in my ability to perform a proper oral exam and float to better help the horses out there!
Excellent and special care given to our gelding 'Dash' before, during and after his operation...