Welcome to EVDS
(Equine Veterinary Dental Services Pty Ltd)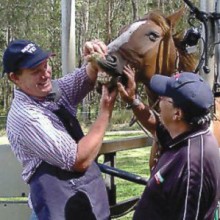 Dental care is an important part of equine health.
The importance of regular dental care not only applies to people but to horses as well. Our vets are trained and qualified to give your horses the best treatment, and also give you the best advice as to how to keep your dentistry costs down over the years.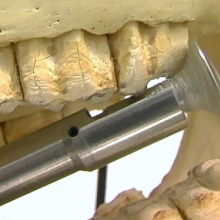 Our range of equine veterinary and equine dental equipment is second to none.
In fact, we have been at the forefront of developing new technologies for the care and treatment of horses. Contact us for a chat or to book an examination of your horse today, and discover first hand our professionality and effectiveness. Ask about the ways you can save $$ by bringing more than one horse into our clinic at one time for a dental or holding a Healthy Horse Dental Party!
Best ever. Much better than wasting money at EVA/AVA conferences. Excellent exposure to basic and advanced equine dentistry. It is good to see that everybody is enthusiastic about teaching vets how to do dentistry the right way and not the 'lay' way.
Oliver and his staff are excellent! Very professional, and Oliver is a horseman himself so he knows how to handle stallions. Fernleigh Paint Horse Stud highly recommends Oliver for all things equine related ... in particular breeding (collecting and inseminating) and all dental work.
Thanks for showing me an alternative to leaving this profession, as it shows equine dentistry can allow me to manage my role as a parent and a vet.
Absolutely excellent professional care for all of my horses over the past ten years. Oliver and his team are fun and efficient. I highly recommend EVDS!
Cannot thank Oliver and his team enough. His attention to detail is second to none. Our equine friends are extremely lucky to have someone who genuinely cares about their overall health and future.
Oliver offers a very professional and caring service to all his clients. I highly recommend EVDS for your veterinary needs for your much over furkids.
Oliver and his team are absolutely wonderful. They are a compassionate and friendly group of people. I know my horses are in the best of hands when Oliver is treating them.
The EVDS team are an invaluable resource in our local area. To have access to such a professional service is truly awesome!!
Have used EVDS since my arrival in Australia in 2004. Won't let anyone else do my horses' teeth. Expert care, very knowledgeable, open and honest. What more could you want from your equine dentist?
Very practical, lots of take home relevant information.