Welcome to EVDS
(Equine Veterinary Dental Services Pty Ltd)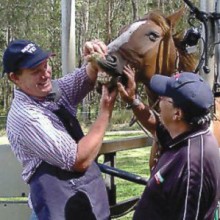 Dental care is an important part of equine health.
The importance of regular dental care not only applies to people but to horses as well. Our vets are trained and qualified to give your horses the best treatment, and also give you the best advice as to how to keep your dentistry costs down over the years.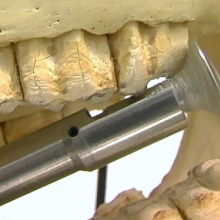 Our range of equine veterinary and equine dental equipment is second to none.
In fact, we have been at the forefront of developing new technologies for the care and treatment of horses. Contact us for a chat or to book an examination of your horse today, and discover first hand our professionality and effectiveness. Ask about the ways you can save $$ by bringing more than one horse into our clinic at one time for a dental or holding a Healthy Horse Dental Party!
Great course, very informative and enlightening on how much pathology we would have been missing. Great social dynamic and friendly approachable lectures/tutors.
Best ever. Much better than wasting money at EVA/AVA conferences. Excellent exposure to basic and advanced equine dentistry. It is good to see that everybody is enthusiastic about teaching vets how to do dentistry the right way and not the 'lay' way.
Best ever - great number of students so we can share ideas and experiences. Every tutor/lecturer approachable and friendly!
I wish I had attended this course earlier.
I feel much more confident with dentistry thanks to this course!
One of the best hands-on courses you can go to. Fantastic level of tuelage. Very well organised and good fun.
Absolutely excellent professional care for all of my horses over the past ten years. Oliver and his team are fun and efficient. I highly recommend EVDS!
Tutors were fantastic, both in their availability during the practical sessions as well as their skills, opinions and varied advice on each case.
I've been using EVDS for all my horses for their dental since I moved here, about 6 years. Oli is the ultimate professional in his treating of my equine family. I have also attended the training days at Grafton with my horses and got exceptional service at extremely reasonable rates. Couldn't recommend enough.
I'm so glad my stud is located in the catchment for such an amazing dedicated vet with compassion and integrity. With lots of youngsters there is a need for six monthly dental checkups, which EVDS's helpful office staff organise for me 12 months in advance to suit the breeding calendar for the stud. The knowledge Oliver so happily shares with his clients has assisted me and my horses on numerous occasions and he is definitely the only vet allowed to perform any dental work on my horses.