Welcome to EVDS
(Equine Veterinary Dental Services Pty Ltd)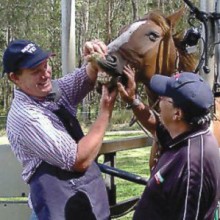 Dental care is an important part of equine health.
The importance of regular dental care not only applies to people but to horses as well. Our vets are trained and qualified to give your horses the best treatment, and also give you the best advice as to how to keep your dentistry costs down over the years.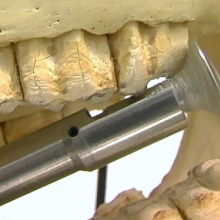 Our range of equine veterinary and equine dental equipment is second to none.
In fact, we have been at the forefront of developing new technologies for the care and treatment of horses. Contact us for a chat or to book an examination of your horse today, and discover first hand our professionality and effectiveness. Ask about the ways you can save $$ by bringing more than one horse into our clinic at one time for a dental or holding a Healthy Horse Dental Party!
Stop stuffing around and make the transition to EVDS. Our beloved horses need the best of care possible and the very fact that EVDS have been our preferred equine vet for over 9 years is proof of their authenticity, professional conduct and knowledge as vets and passion towards their craft. Get on board with EVDS, your horse will thank you.
Oliver and his staff are excellent! Very professional, and Oliver is a horseman himself so he knows how to handle stallions. Fernleigh Paint Horse Stud highly recommends Oliver for all things equine related ... in particular breeding (collecting and inseminating) and all dental work.
I can't recommend EVDS enough! Oliver is so awesome with the horses and really takes his time with each customer, making sure we take the time to touch, see and feel any problems so we understand what's going on and impacts of any issues if he finds them. I would trust his word and recommendations implicitly! As well as being a awesome vets and equine dentists, EVDS are also incredibly supportive of local riding clubs, offering sponsorship for classes and events. On behalf of Coffs Coast Jump Club and our members, thanks again for the EVDS support!
I would not trust anyone else with my horses oral health.
Can't recommend Oliver, Jenna, and all of the staff at EVDS highly enough. Oliver is kind, caring, and compassionate, and treats all of my horses (including my old rescue cases) like prized race horses. He always goes above and beyond, is extremely knowledgeable, and arguably one of the top professionals in his field. We are extremely lucky to have him in our local area.
Best ever - great practical and lecture content. Thank you for another great week of learning and improving my skills. This has consolidated my business plan and I feel so much more able to step out with confidence.
Best ever. Much better than wasting money at EVA/AVA conferences. Excellent exposure to basic and advanced equine dentistry. It is good to see that everybody is enthusiastic about teaching vets how to do dentistry the right way and not the 'lay' way.
Highly recommend this course to anyone starting dentals or needing to refresh. Should be mandatory prior to performing equine dentals!
Thanks for showing me an alternative to leaving this profession, as it shows equine dentistry can allow me to manage my role as a parent and a vet.
Horses are a big part of our family life and we are so very lucky to have EVDS care for their mouths - which as we all know - is such a huge part to get right when you have horses. Oliver is a fun, compassionate, insightful guy - anybody looking to come work with him and his team would be mad to knock back the opportunity.