Welcome to EVDS
(Equine Veterinary Dental Services Pty Ltd)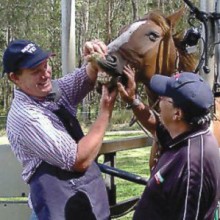 Dental care is an important part of equine health.
The importance of regular dental care not only applies to people but to horses as well. Our vets are trained and qualified to give your horses the best treatment, and also give you the best advice as to how to keep your dentistry costs down over the years.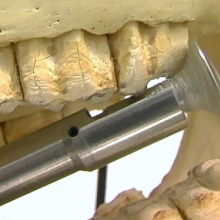 Our range of equine veterinary and equine dental equipment is second to none.
In fact, we have been at the forefront of developing new technologies for the care and treatment of horses. Contact us for a chat or to book an examination of your horse today, and discover first hand our professionality and effectiveness. Ask about the ways you can save $$ by bringing more than one horse into our clinic at one time for a dental or holding a Healthy Horse Dental Party!
I stayed with EVDS for over 4 months, and I can say that there are no impossible cases for Oliver, even when they looked impossible to solve, Oliver treated them with a 100% success. I had the luck to be the first South American to learn from one of the best dental vets in Australia and the world!! EVDS are amazing human beings and a very professional team that will be always on my heart.
Can't recommend Oliver, Jenna, and all of the staff at EVDS highly enough. Oliver is kind, caring, and compassionate, and treats all of my horses (including my old rescue cases) like prized race horses. He always goes above and beyond, is extremely knowledgeable, and arguably one of the top professionals in his field. We are extremely lucky to have him in our local area.
We are lucky to have such a talented dental vet - best in the Southern Hemisphere- he teaches all the other vets equine dentistry - and a lovely man as well. Thankyou Ollie.
Best ever - great number of students so we can share ideas and experiences. Every tutor/lecturer approachable and friendly!
Oliver offers a very professional and caring service to all his clients. I highly recommend EVDS for your veterinary needs for your much over furkids.
Excellent - This is a brilliant course which has taken me from not wanting to touch a PowerFloat to being comfortable using one, and even better, understanding what I am doing and why! I thoroughly recommend it to other vets!
I can't recommend EVDS enough! Oliver is so awesome with the horses and really takes his time with each customer, making sure we take the time to touch, see and feel any problems so we understand what's going on and impacts of any issues if he finds them. I would trust his word and recommendations implicitly! As well as being a awesome vets and equine dentists, EVDS are also incredibly supportive of local riding clubs, offering sponsorship for classes and events. On behalf of Coffs Coast Jump Club and our members, thanks again for the EVDS support!
Horses are a big part of our family life and we are so very lucky to have EVDS care for their mouths - which as we all know - is such a huge part to get right when you have horses. Oliver is a fun, compassionate, insightful guy - anybody looking to come work with him and his team would be mad to knock back the opportunity.
Oliver and the team provide a fantastic service... Honestly I can't recommend EVDS highly enough other than to say you won't find someone who has a passion for his work and a love of horses as much as Oliver and his team do.
I've been using EVDS for all my horses for their dental since I moved here, about 6 years. Oli is the ultimate professional in his treating of my equine family. I have also attended the training days at Grafton with my horses and got exceptional service at extremely reasonable rates. Couldn't recommend enough.