Welcome to EVDS
(Equine Veterinary Dental Services Pty Ltd)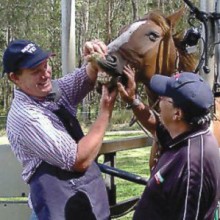 Dental care is an important part of equine health.
The importance of regular dental care not only applies to people but to horses as well. Our vets are trained and qualified to give your horses the best treatment, and also give you the best advice as to how to keep your dentistry costs down over the years.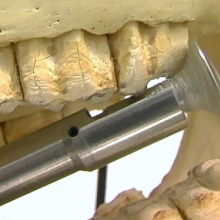 Our range of equine veterinary and equine dental equipment is second to none.
In fact, we have been at the forefront of developing new technologies for the care and treatment of horses. Contact us for a chat or to book an examination of your horse today, and discover first hand our professionality and effectiveness. Ask about the ways you can save $$ by bringing more than one horse into our clinic at one time for a dental or holding a Healthy Horse Dental Party!
Incredible - Thank you so much for running such a fantastic workshop. I can't think of anything that was bad. My only thought would be to spread it over 6 days.
Excellent and special care given to our gelding 'Dash' before, during and after his operation...
Oliver is professional and knowledgeable. I feel at ease knowing my horse is in good hands and getting the best treatment. Thanks Oli for keeping horses and owners across the mid north coast happy and health and for always providing service with a smile.
Support from tutors was amazing.
Everything was great! I loved it! I am knackered which is great! Best course ever!
Really enjoyed it. Hospitality was fantastic! Patience exceptional. Thank you!
Oliver Liyou is one of nature's true gentlemen and I am honoured to now call him my friend. EVDS is his pride and joy and his customers, moreover our horses, are the true beneficiaries of the remarkably talented delivery of his profession. Put simply, Oliver is passionate about what he does, and his consistently high quality of work and expertise in his specialised field in my opinion makes him by far the best in NSW, possibly Australia and afar...
Oliver and the team provide a fantastic service... Honestly I can't recommend EVDS highly enough other than to say you won't find someone who has a passion for his work and a love of horses as much as Oliver and his team do.
I would not trust anyone else with my horses oral health.
The knowledge you all have passed on is second to none - along with 5 star entertainment