Welcome to EVDS
(Equine Veterinary Dental Services Pty Ltd)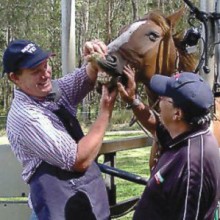 Dental care is an important part of equine health.
The importance of regular dental care not only applies to people but to horses as well. Our vets are trained and qualified to give your horses the best treatment, and also give you the best advice as to how to keep your dentistry costs down over the years.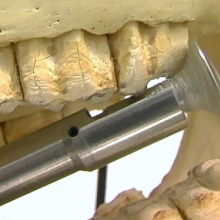 Our range of equine veterinary and equine dental equipment is second to none.
In fact, we have been at the forefront of developing new technologies for the care and treatment of horses. Contact us for a chat or to book an examination of your horse today, and discover first hand our professionality and effectiveness. Ask about the ways you can save $$ by bringing more than one horse into our clinic at one time for a dental or holding a Healthy Horse Dental Party!
The EVDS team are an invaluable resource in our local area. To have access to such a professional service is truly awesome!!
Best ever - great number of students so we can share ideas and experiences. Every tutor/lecturer approachable and friendly!
I feel much more confident with dentistry thanks to this course!
Oliver and his team provide a wonderful service for horse owners on the NSW mid-north coast. He has been looking after my horses ever since we moved up here ten years ago. I am confident that their teeth are in the most capable of hands and that any small issues will be picked up before they become serious. He treats all the horses with kindness and respect and is a very valued member of my support team. He is also a wonderful guy to talk to about scientific advances in equine medicine and I look forward to our annual catch ups. Thank you Oli.
Everyone has been so welcoming and helpful. I've learnt a huge amount! I loved the attention to detail in terms of just little things like sedation protocols, handling etc. It helped boost my overall confidence hugely.
Oliver offers a very professional and caring service to all his clients. I highly recommend EVDS for your veterinary needs for your much over furkids.
Very practical, lots of take home relevant information.
My and my horses' (and dogs') favourite vet ... caring and thoughtful.
Have used EVDS since my arrival in Australia in 2004. Won't let anyone else do my horses' teeth. Expert care, very knowledgeable, open and honest. What more could you want from your equine dentist?