Welcome to EVDS
(Equine Veterinary Dental Services Pty Ltd)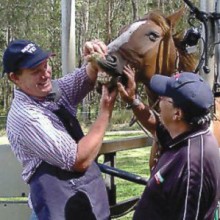 Dental care is an important part of equine health.
The importance of regular dental care not only applies to people but to horses as well. Our vets are trained and qualified to give your horses the best treatment, and also give you the best advice as to how to keep your dentistry costs down over the years.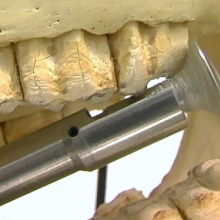 Our range of equine veterinary and equine dental equipment is second to none.
In fact, we have been at the forefront of developing new technologies for the care and treatment of horses. Contact us for a chat or to book an examination of your horse today, and discover first hand our professionality and effectiveness. Ask about the ways you can save $$ by bringing more than one horse into our clinic at one time for a dental or holding a Healthy Horse Dental Party!
A fantastic event - a week of great learning experience and practical value.
Fantastic course that has helped me understand the foundations of equine dentistry and gain confidence in my ability to perform a proper oral exam and float to better help the horses out there!
Great vet, great person very approachable, always available to discuss any issues from teeth, reproduction, feet & general health issues. Thank you for being there for us when needed
Thank you for a great week improving my skills and hopefully allowing me to have a work life balance. I found the progression really good.
Horses are a big part of our family life and we are so very lucky to have EVDS care for their mouths - which as we all know - is such a huge part to get right when you have horses. Oliver is a fun, compassionate, insightful guy - anybody looking to come work with him and his team would be mad to knock back the opportunity.
The EVDS team are an invaluable resource in our local area. To have access to such a professional service is truly awesome!!
Have used EVDS for 12+ years can highly recommend. They goes the extra mile for our equine partners
I'm so glad my stud is located in the catchment for such an amazing dedicated vet with compassion and integrity. With lots of youngsters there is a need for six monthly dental checkups, which EVDS's helpful office staff organise for me 12 months in advance to suit the breeding calendar for the stud. The knowledge Oliver so happily shares with his clients has assisted me and my horses on numerous occasions and he is definitely the only vet allowed to perform any dental work on my horses.
Cannot thank Oliver and his team enough. His attention to detail is second to none. Our equine friends are extremely lucky to have someone who genuinely cares about their overall health and future.