Welcome to EVDS
(Equine Veterinary Dental Services Pty Ltd)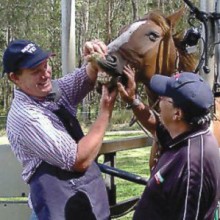 Dental care is an important part of equine health.
The importance of regular dental care not only applies to people but to horses as well. Our vets are trained and qualified to give your horses the best treatment, and also give you the best advice as to how to keep your dentistry costs down over the years.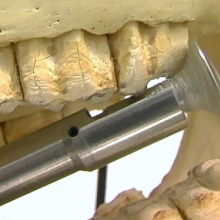 Our range of equine veterinary and equine dental equipment is second to none.
In fact, we have been at the forefront of developing new technologies for the care and treatment of horses. Contact us for a chat or to book an examination of your horse today, and discover first hand our professionality and effectiveness. Ask about the ways you can save $$ by bringing more than one horse into our clinic at one time for a dental or holding a Healthy Horse Dental Party!
Tutors were fantastic, both in their availability during the practical sessions as well as their skills, opinions and varied advice on each case.
Oliver and his team are absolutely wonderful. They are a compassionate and friendly group of people. I know my horses are in the best of hands when Oliver is treating them.
Really enjoyed it. Hospitality was fantastic! Patience exceptional. Thank you!
Stop stuffing around and make the transition to EVDS. Our beloved horses need the best of care possible and the very fact that EVDS have been our preferred equine vet for over 9 years is proof of their authenticity, professional conduct and knowledge as vets and passion towards their craft. Get on board with EVDS, your horse will thank you.
Cannot thank Oliver and his team enough. His attention to detail is second to none. Our equine friends are extremely lucky to have someone who genuinely cares about their overall health and future.
Thank you for a great week improving my skills and hopefully allowing me to have a work life balance. I found the progression really good.
Oliver and his staff are excellent! Very professional, and Oliver is a horseman himself so he knows how to handle stallions. Fernleigh Paint Horse Stud highly recommends Oliver for all things equine related ... in particular breeding (collecting and inseminating) and all dental work.
Oliver Liyou is one of nature's true gentlemen and I am honoured to now call him my friend. EVDS is his pride and joy and his customers, moreover our horses, are the true beneficiaries of the remarkably talented delivery of his profession. Put simply, Oliver is passionate about what he does, and his consistently high quality of work and expertise in his specialised field in my opinion makes him by far the best in NSW, possibly Australia and afar...
Very professional and most of all an excellent job. My boys always perform so much better after a visit. Love your work!
I would not trust anyone else with my horses oral health.